Used 

Honda Buying Guide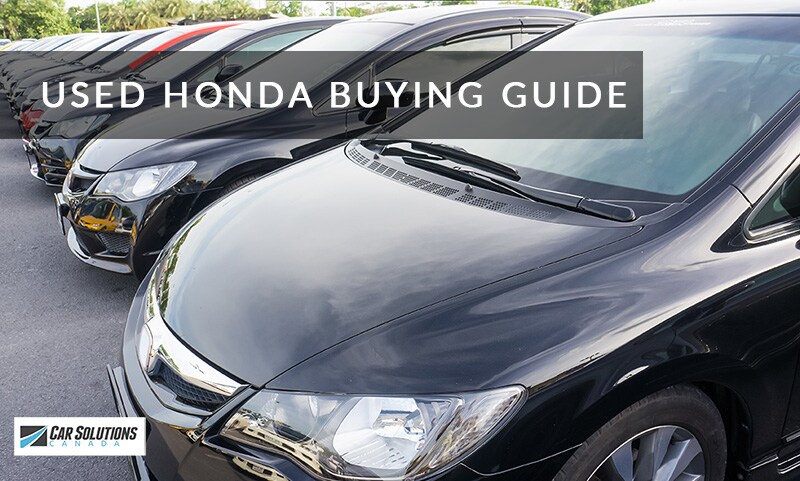 Hondas are one of the most used vehicles throughout the world. As a safe, reliable, and long-lasting vehicle choice, many are looking to purchasing them used. The demand for both sub-compact and compact cars fell in recent years, close to 20% on each. This also affected the sales of mid-sized cars, as well. This hasn't affected the purchase of Honda cars, because of how well they perform. They are favored for their affordable prices, but also their reliability.
Wondering which Honda vehicles, you should purchase used out of all the options out there? We've gathered a list for you to use to purchase used Hondas at an affordable price and reliable trim and model levels.
2011 Honda Civic
Choosing between the coupe and sedan body style may be the toughest decision to make. This 1.8 liter 4-cylinder engine that is able to drive up to 140hp. With a 5-speed manual transmission, and automatic options; you can have the most comfortable control options. There are power options inside the vehicle, with a 13.2-gallon gas tank and 25 city mpg and 36 highway mpg.
2012 Honda Fit
One of the most popular subcompact vehicles to purchase, this vehicle has gotten a lot of improvements throughout the years. With three different trim levels: LX, DX or Sport. They changed a lot of the styles that came with the vehicle, offering a sleeker appearance. The smaller 1.5-liter engine brings a good 117 hp with a 5-speed automatic or manual transmission option.
In the standard options, the normal power windows and locks, as well as stereo with MP3 and CD player and air conditioning and heating options. Those that have the sportier trim get 16-inch alloy wheels, leather wrapping around pieces of the vehicle, as well as other additions.
2014 Honda Accord Hybrid
This model of Honda comes with two different trim levels, the Hybrid and Hybrid Touring. As a standard feature, the 17-inch aluminum alloy wheels are added to the look of the vehicle. With an Econ mode, you can actually save gas while driving around, allowing you to get further with less gas. There is a security system, power seats, temperature indicators, leather upholstery, power moon roof and satellite navigation. These extras are ideal for so many looking for a vehicle they feel comfortable driving around in.
Instead of using a traditional transmission in this model, they chose to use two electric motors inside the vehicle. They use a lithium-ion battery that powers the motors, providing over 160 hp for the user.
2009 Honda Fit
Those that want a smaller sized vehicle, great mileage and an awesome purchase price can find it with the 2009 Honda Fit. This has a little 1.5 liter 4-cylinder engine that was easily able to climb over smaller hills and push the vehicle to further heights. It is one of the best cars for its size, making it an ideal choice to go with if you want something that isn't too flashy, provides power and ensures that you get to where you need to go. Plus, the vehicle got good ratings from crash tests conducted.
2012 Honda Accord
Rated as one of the most reliable vehicles from the brand, it has a high resale value that comes along with this model because of the reliable, dependable engine that is put inside the vehicle. The four-door sedan has a 2.4 liter, 4-cylinder engine that is able to go up over 170 hp. With a 5-speed auto transmission, as well as emergency trunk release, traction control, stability control, and more; this vehicle has given the owner everything they need including 23 city and 34 highway MPG.
2013 Honda Civic
The exterior and interior of the vehicle has been changed to provide more comfort and control for the owner. There is a touring, coupe and a sportier option for trim levels, depending on the extras and look that the owner would want to have. The DX trim is the only one that has the 5-speed manual transmission, while the other options have the 5-speed automatic transmission options with them. With a 1.8-liter engine, it gives 140 hp and 28 city and 35 highway MPG.
You can expect to find heated front seats, Bluetooth audio, temperature gauge, heated mirrors, trunk release, rear camera, leather wrapped options, four-wheel disc brakes all around and a USB connector.
2012 Honda CR-V
This redesigned model was one that hit the ground running. With an improved fuel efficiency, increased power and a better appearance; many people are looking to purchase one of these smaller SUV models. With four different trim levels, you can choose which one compliments the needs that you have. LX, EX, EX-L, and Touring are all models. Two of the models are all-wheel drive, providing more power. Eco Assist is also offered on the model, while electronic power steering, control, and keyless entry are all standard.
With 17-inch alloy wheels, power sunroof, leather trimmed seats in some of the models, and more; you can expect to get the best when it comes to the right vehicle that offers additional perks of an affordable, reliable Honda.
2009 Honda Civic
This 2.0 liter, 4-cylinder engine on this Civic produces over 190hp. If you want better fuel efficiency, as well as horsepower then this is the model for you to use. The 6-speed manual transmission provides maximum control for the owner. Different trim levels are offered in this model vehicle such as the base model, Si, Hybrid and GX. The hybrid and GX versions come with four doors, while the others are complete with two. Additional trims, such as the LX-S and VP are offered in sedan-styles.
There are standard features of all these trim levels such as Bluetooth options, 17-inch alloy wheels, rear spoiler, synthetic sports seats, slim look and so much more. With a boost in fuel efficiency, you can expect to get around 26 city or 34 highway MPG.
2012 Honda Civic Hybrid
Powered with a powerful electric booster motor, they use a lithium-ion battery pack. The 2.4 liter 16-valve four-cylinder engine produces over 201hp. With a 6-speed manual transmission, it is the only one available for this model. The standard features that come with this model is the Bluetooth, cruise control, audio controls, and more. As the 2012 IIHS Top Safety Pick, it is a vehicle that is highly sought after by many.
2007 Honda Accord
This 2.4 liter, 4-cylinder, you can choose between the 5-speed manual or automatic transmission options. The standard features of this model include airbags on the front and side, as well as coming with 13 different trim lines of the vehicle. The sedan and coupe styles and in 2.4 VP, 2.4 SE and 3.0 SE. The features of each of the options vary depending on which you choose to go with. Some can give over 160hp while others may provide over 140hp.
Honda offers a number of models to those that are looking for a great, affordable, and reliable vehicle to purchase. It is a favored vehicle on Canadian roads today and comes highly recommended. Since hybrid vehicles have been introduced, many more options are being added to the market with many more additional perks that come with using them.